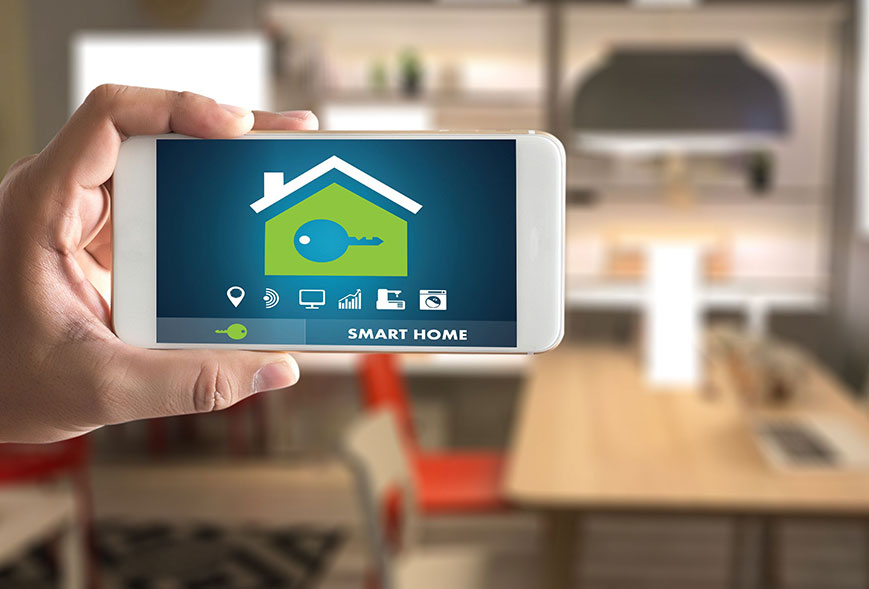 Home as a place that we spend a huge amount of our time and as where we grow up in, live and might die in, is one of the most important parts of our lifestyle. Maybe our life satisfaction depends somewhat on where we live.
The world has seen tremendous growth in telecom technologies during the last decade. As a result, a multitude of new applications of Information and Communication Technologies has emerged and changed the way we live, work, play, interact and even think. This has created a lot of momentum in many spheres that impact our lives. The latest trend is Machine-to-Machine (M2M) communication / Internet of Things (IoT), which has led to a new world of possibilities and opportunities. Smart Home is one of the focus areas in this initiative as is evident from the large number of IoT/M2M enabled nodes being created for this sector.
A Smart Home is an aggregation of all the needs of its occupants while they are inside and also when they are not. Remote control, Security, surveillance, remote monitoring of premises including monitoring those who are sick, young, elderly, etc. are all requirements of many users. In order to meet these requirements, integration at the application level and scalability at the cloud level are needed.
Briefly, we can say a smart home is one that incorporates advanced sensing and automation systems to provide the inhabitants with monitoring and control, regardless of whether they are inside or outside the home. For example, a smart home may have controls for lighting, temperature, multi-media, security, window and door operations, as well as many other functions.
A Smart home, then, may be defined as a residence or a building with equipment which can be remotely controlled and operated from any location in the world by means of Smart Devices or through a smartphone. Smart Homes comprise of devices that provide comfort, security, convenience, energy efficiency and enhance intelligent living. The devices communicate and interact with each other and form a connected ecosystem. Smart Home is usually understood as an automated home but in fact, the actual capabilities are beyond automation. Smart Home ecosystem comprises of a set of connected gadgets with Intelligence that helps in executing tasks and taking necessary decisions.
Every home has many parts that can be connected with technology to make them work better. We can categorize smart home technology in different parts such as security, energy, wearable devices, etc. some of these categories are explained in below:
Décor-Friendly Gadgets
These gadgets are aesthetically more appealing than normal gadgets. This helps make a fashion statement as good-looking sensors/nodes placed at various locations in the house, are considered as desirable elements. The small size further adds to this feeling.
Programmable Devices
The smart gadgets can be programmed and customized according to the user preferences. For example, there are programmable thermostats that can be controlled using smart gadgets and can be used to control the temperature, based on occupancy. The programming capability also adds to personalization.
Wireless Controls
More and more devices are now connected through wireless. This makes the installation simple. A further element of wireless is portability as devices or nodes can be moved easily to another location in the house or to another location.
Advanced Security Systems
The Smart Home gadgets provide better home automation with enhanced security. These gadgets can track the activity of human beings especially monitoring children and elderly people and activate the security systems in case of an emergency. Security systems and remote monitoring can further aid a form of remote patient care also.
Automated Door Locks
The automated door locks are configured in such a way that would make them unlock based on the user and his access criteria. These smart locks can also be configured with wearable gadgets. These are considered to be enhancing safety. Also as depending on the category of the visitor, one may unlock the lock for different time durations and auto lock when needed. The remote door locks are expected to create several different user cases and at present, these are in various stages of experimentation even though deployment has already started.
Smart Appliances
Currently, household appliances are responsible for about two-thirds of the energy consumed by buildings. Industrial appliances are also major energy users. In  future, such appliances will no longer be stand-alone items. By communicating between themselves and with energy control systems, the impact of these devices on the environment can be managed and optimized. Smart appliances include white goods, heating, ventilation, and air conditioning systems and storage systems.
Solar Rooftops
It is pertinent to mention that roof-top solar, net metering and electric vehicles would play a huge role in an Smart Home by creating a micro-grid. Electric vehicles would not only provide a clean and efficient mean of transport, but would act as local power plants, which could supply power to the grid in case of an outage.
Wearable Devices
Furthermore, with the proliferation of wearable devices for improved healthcare, the quality of life for citizens will substantially enhance.
In the end smart home as a solution for a better life, helps reduce our life costs (like energy costs) and helps reduce pollutions or other problems that cities have and make our cities smart. In a word, smart home is a necessity, not a luxury.